The 42nd annual Middle East Electricity Exhibition organized by UAE was held in Dubai World Trade Center on 14th-16th 2017
Middle East Electricity Exhibition is among the biggest five global industrial event and is found to be one of the international influential function for electricity and power solution. Total exhibiting floor space takes up over 80,000 sq. m. which attracts over 20,000 professional visitors and 1500 industrial exhibitors in 120 countries participating in the event.
As a leading power generating and power solution provider, Tide Power has displayed ourselves to the world our strong developing capability in terms of our newly designed super silent generator unit, rental unit and standard sound attenuated unit and with such it greatly improved our company image to the world and at the same time gives us a solid base in further developing the Middle East market.
The three units that displayed in the exhibition are the result of our effort both in design and R&D. The rental unit is specially designed for the Middle East weather condition with anti-sand protection, easy separated fuel tank, unique square shape on top silencer and also with GPS feature for use in mobile app. The anti-sand protection function can also be found in our super silent unit with noise level at 59dBA/7m which is considered to be a milestone in the industry. At the same time the noise reduction cabinet on both side of the canopy can be extended to reduce the noise level further. The compact design of the standard sound attenuated unit is beautifully constructed with our original designed chassis which is much larger and also better in automatically collecting liquid waste as well as for convenient cleaning purpose. These three units greatly denote our design capability and are highly recognized by all the visitors.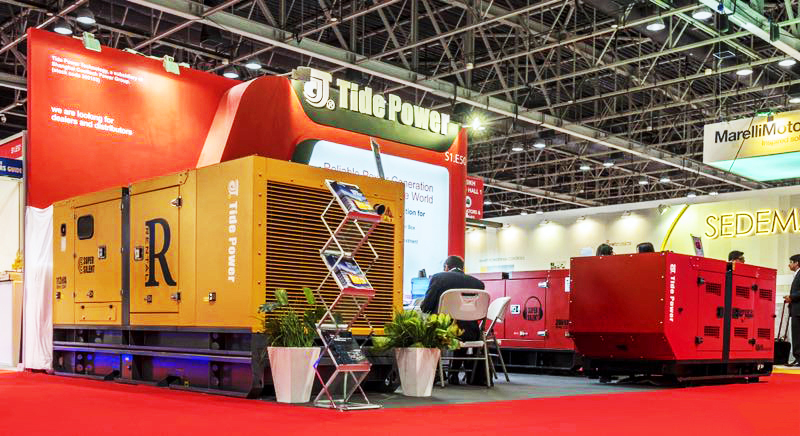 Our employing of Perkins engine for all of our units in display was highly appraised by Perkins and we enjoy very much of their interview and report in regard to our exhibits and our team members.
With our years of experience in product development and research, our strength in the industry is greatly recognized in which we received a lot of inquiries and intent for cooperation from countries like UAE, Saudi Arabia, Pakistan, Iran, Turkey and many others during the exhibition.